Clinical Department of Brachytherapy
The Clinical Department of Brachytherapy with the Institute was established in 1994 as part of the structure of the Oncology Centre of F. Łukaszczyk in Bydgoszcz. It has been equipped with modern brachytherapy equipment including afterloading devices in the field of LDR, PDR and HDR, thus offering a full-profile range of services in the field of brachytherapy. The first head of the Department in 1994-1999 was Anna Kuźmińska, MD. From 2000 to the present day, the unit is headed by professor Roman Makarewicz, MD, PhD. The function of the Head of Medical Care has been performed by Barbara Cichocka, MSc since 2000. The Clinical Department of Brachytherapy was a pioneer of modern HDR brachytherapy using a miniature source of iridium 192 HDR, which we were the first in the country to introduce into clinical practice (1992 – at that time based in the Hospital of Jan Biziel). In terms of the number of patients treated, we are one of the largest in Europe and domestically. Out of 10,847 patients treated with brachytherapy in Poland in 2019, 1,226 patients (11.3%) chose our Department as a place of therapy. The remaining patients were treated in total in 31 other brachytherapy centres that exist throughout the country.
The Clinical Department and Institute of Brachytherapy currently carries out procedures related to the treatment of genital organ cancers, prostate cancer, breast cancer (including the method of Accelerated Partial Breast Irradiation – APBI), skin cancers, lung cancer, oesophageal cancer, head and neck cancers. In selected clinical cases, intraoperative brachytherapy is also carried out as a supplement to surgical methods. The stationary base includes 20 hospital beds. Most services are provided on an outpatient basis.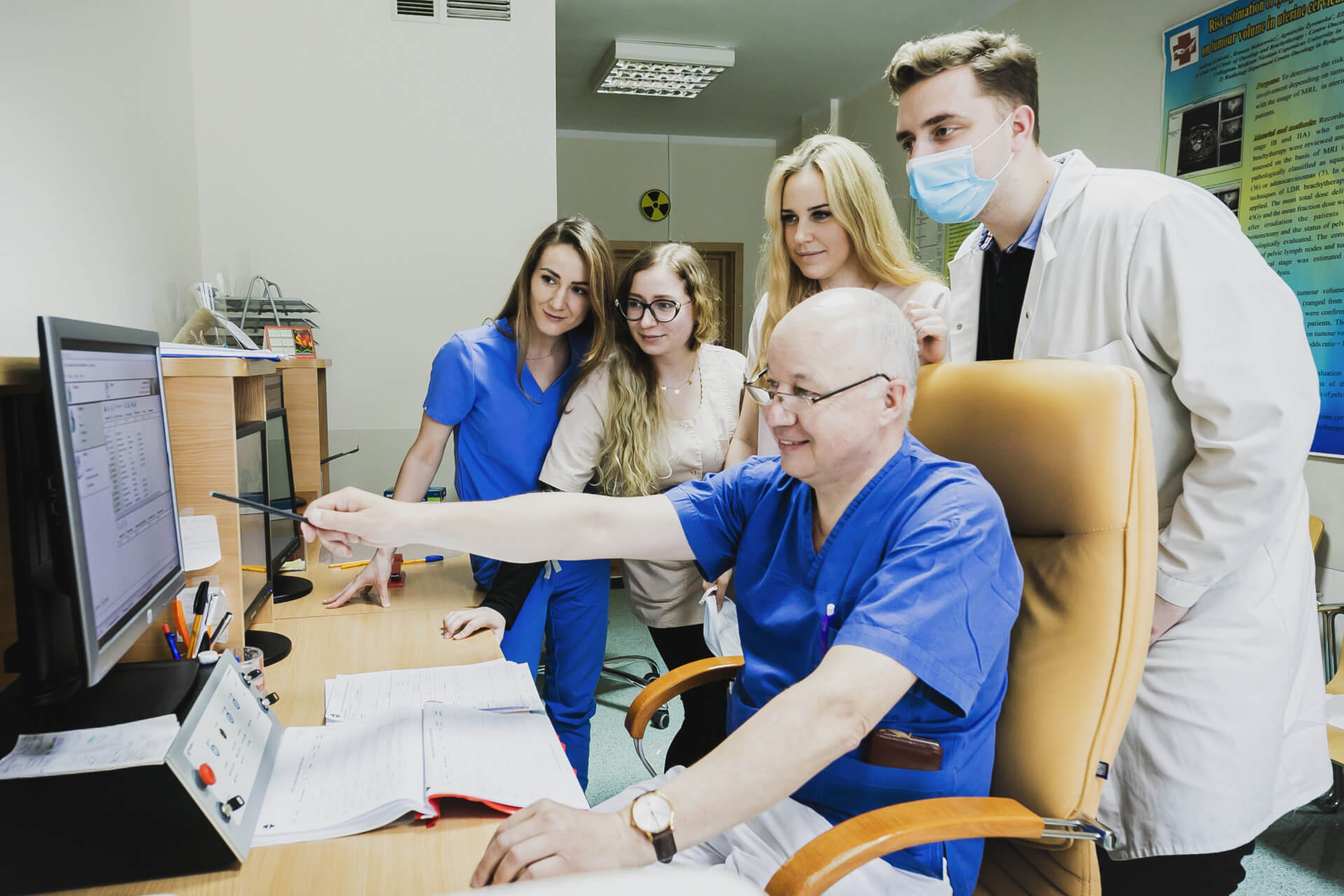 Patients are looked after by an experienced team of doctors and nurses (73% of the nursing staff specializes in oncological nursing).
On the basis of the unit, since the year 2000, functions the Department of Oncology and Brachytherapy which conducts classes for students of the Faculty of Medicine and Health Sciences at Collegium Medicum in Bydgoszcz, which is part of the Nicolaus Copernicus University in Toruń. Scientific research is also conducted, the results of which are published in international and national scientific journals. In the scientific ranking of all research units of the Faculty of Medicine, the Department is ranked 20th out of 48 evaluated departments and institutes. On the basis of the research carried out, a total of 18 doctoral dissertations were conducted.
Contact to the branch
Branch Coordinator

prof. dr hab. n. med. Roman Makarewicz

Head of Medical Care

mgr Barbara Cichocka
Odwiedziny
odbywają się codziennie w godzinach od 15.00-17.30,
rekomenduje się wejście na oddział tylko 1 osoby odwiedzającej,
osoby z objawami infekcji nie mogą odwiedzać pacjentów,
przypominamy o obowiązku noszenia maseczki podczas całego pobytu w Centrum Onkologii
Przyjęcie do Oddziału
Izba Przyjęć znajduje się na niskim parterze w tylnej części Budynku Głównego. Z jej usług korzystają osoby skierowane do planowanej hospitalizacji oraz pacjenci leczeni w Centrum Onkologii, u których nastąpiło nagłe pogorszenie stanu zdrowia.
Pacjenci zgłaszający się do przyjęcia powinni mieć dowód osobisty lub inny dokument potwierdzający tożsamość.
Po rejestracji w Recepcji Izby Przyjęć chory udaje się do przebieralni, jeśli zachodzi taka potrzeba pielęgniarka/ sanitariusz pomaga choremu przy przebraniu się. Pacjent przekazuje okrycia wierzchnie rodzinie lub pozostawia je na przechowanie w depozycie szpitalnym. Na oddział docelowy chory udaje się sam lub jeśli zachodzi taka potrzeba jest zaprowadzony lub przewieziony przez sanitariusza Izby Przyjęć.
UWAGA!
Szpital nie ponosi odpowiedzialności za rzeczy pozostawione w szafkach przy łóżku chorego, dlatego też wszelkie wartościowe przedmioty (np. pieniądze, biżuteria, karty płatnicze) należy zostawić w domu lub przekazać do Depozytu Rzeczy Wartościsiowych mieszczącego się w Kasie Centrum Onkologii.
Co zabrać ze sobą do szpitala?
leki oryginalnych opakowaniach + dokumentację medyczną + nagrania płyt z badaniami
piżamę,
ręcznik,
kapcie, klapki pod prysznic,
wygodne ubranie bawełniane np. dres,
bieliznę osobistą,
szlafrok,
środki czystości (mydło, szampon, szczotkę i pastę do zębów, dezodorant)
przybory toaletowe (grzebień, przybory do golenia itd.)
Co można zabrać:
sztućce,
kubek,
wodę mineralną niegazową,
kawę/herbatę,
chusteczki higieniczne,
środki higieny osobistej (podpaski),
książki, czasopisma,
telefon komórkowy + ładowarkę