Department of Anaesthesiology and Intensive Therapy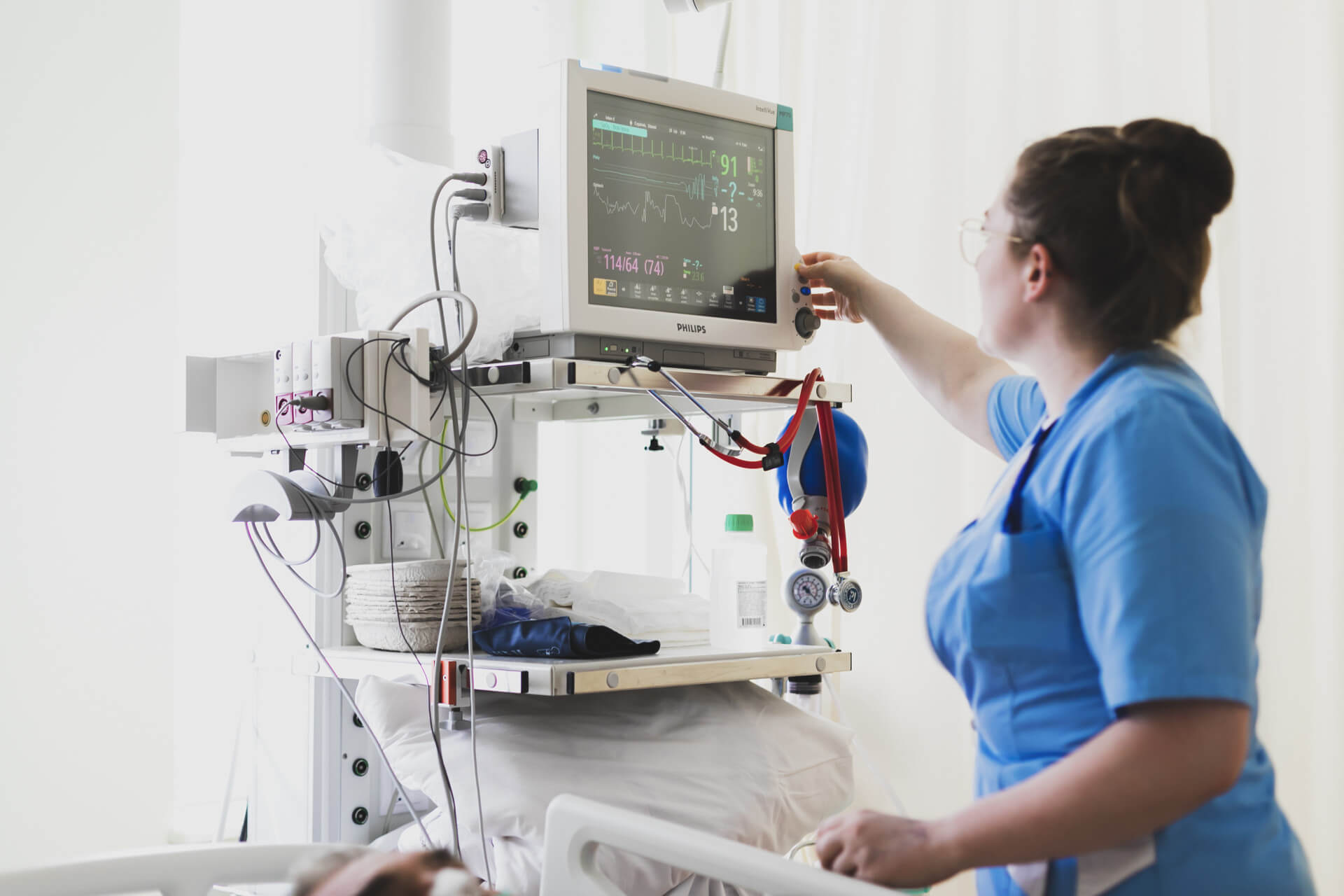 Anaesthetic care for the patients of the Oncology Centre is performed by 15 specialist physicians and 43 nurses, 41 of whom specialize in anaesthetic nursing services and intensive care.
The team's operations pertain three segments:
Anaesthesiology clinic – where patients are qualified for surgery,
Surgery block with the Awakening Room – anaesthesia for surgical procedures is administered here. After surgery, the patient is directed to the Awakening Room. Here, the patient is monitored and postoperative pain treatment is provided, then continued in the home ward (the Oncology Centre has the "Hospital Without Pain" certificate). After waking up, the patient is transferred to the home ward,
Department of Intensive Care – for treatment of patients in a serious condition, patients admitted from other departments of the Oncology Centre, as well as monitored patients operated in serious health condition and after extensive surgeries. The department has the necessary equipment to monitor and support vital functions.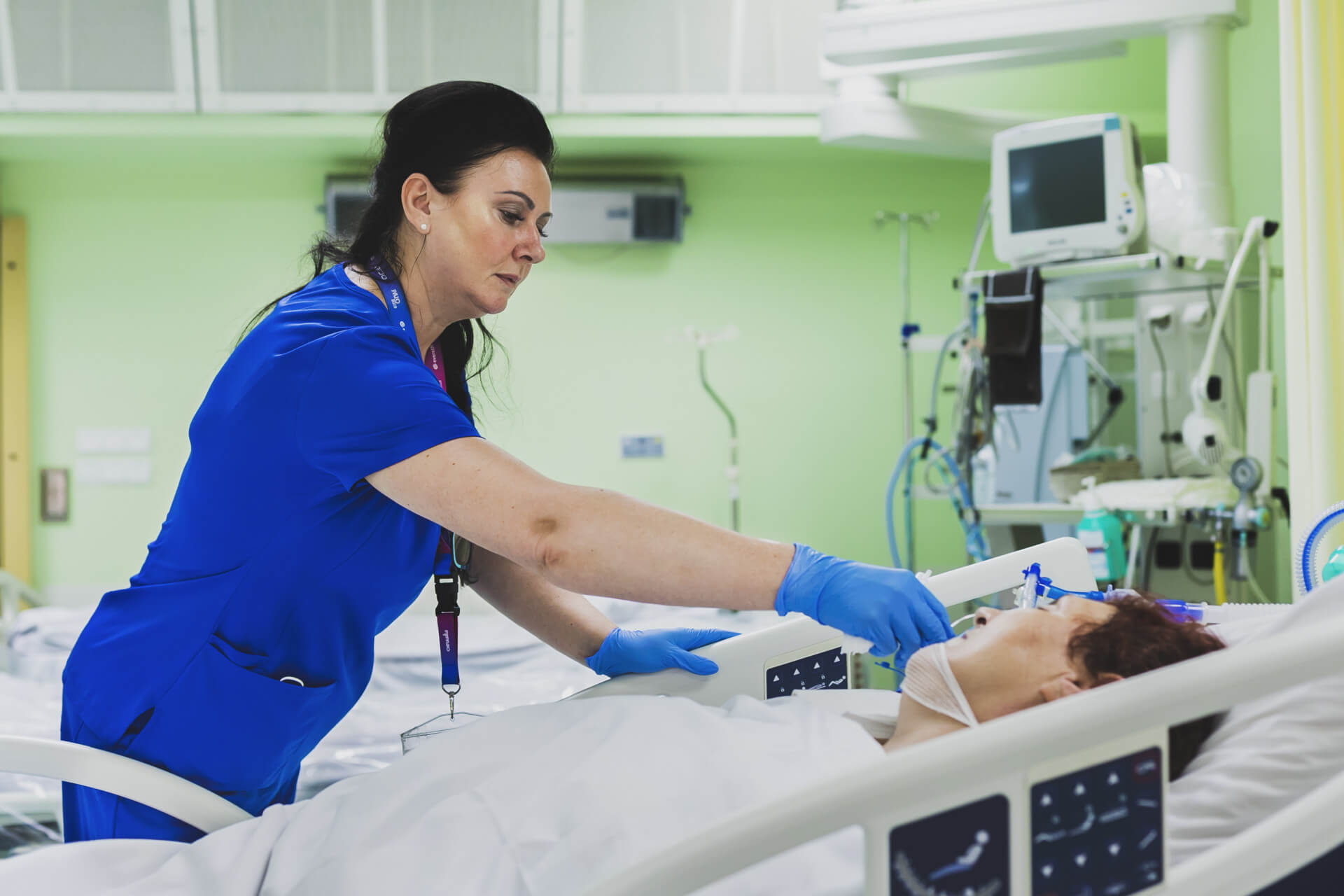 Contact to the branch
Branch Coordinator

dr Mirosław Dobrowolski

Head of Medical Care

mgr Katarzyna Walkowiak
Odwiedziny
odbywają się codziennie w godzinach od 15.00-17.30,
rekomenduje się wejście na oddział tylko 1 osoby odwiedzającej,
osoby z objawami infekcji nie mogą odwiedzać pacjentów,
przypominamy o obowiązku noszenia maseczki podczas całego pobytu w Centrum Onkologii
Przyjęcie do Oddziału
Izba Przyjęć znajduje się na niskim parterze w tylnej części Budynku Głównego. Z jej usług korzystają osoby skierowane do planowanej hospitalizacji oraz pacjenci leczeni w Centrum Onkologii, u których nastąpiło nagłe pogorszenie stanu zdrowia.
Pacjenci zgłaszający się do przyjęcia powinni mieć dowód osobisty lub inny dokument potwierdzający tożsamość.
Po rejestracji w Recepcji Izby Przyjęć chory udaje się do przebieralni, jeśli zachodzi taka potrzeba pielęgniarka/ sanitariusz pomaga choremu przy przebraniu się. Pacjent przekazuje okrycia wierzchnie rodzinie lub pozostawia je na przechowanie w depozycie szpitalnym. Na oddział docelowy chory udaje się sam lub jeśli zachodzi taka potrzeba jest zaprowadzony lub przewieziony przez sanitariusza Izby Przyjęć.
UWAGA!
Szpital nie ponosi odpowiedzialności za rzeczy pozostawione w szafkach przy łóżku chorego, dlatego też wszelkie wartościowe przedmioty (np. pieniądze, biżuteria, karty płatnicze) należy zostawić w domu lub przekazać do Depozytu Rzeczy Wartościsiowych mieszczącego się w Kasie Centrum Onkologii.
Co zabrać ze sobą do szpitala?
leki oryginalnych opakowaniach + dokumentację medyczną + nagrania płyt z badaniami
piżamę,
ręcznik,
kapcie, klapki pod prysznic,
wygodne ubranie bawełniane np. dres,
bieliznę osobistą,
szlafrok,
środki czystości (mydło, szampon, szczotkę i pastę do zębów, dezodorant)
przybory toaletowe (grzebień, przybory do golenia itd.)
Co można zabrać:
sztućce,
kubek,
wodę mineralną niegazową,
kawę/herbatę,
chusteczki higieniczne,
środki higieny osobistej (podpaski),
książki, czasopisma,
telefon komórkowy + ładowarkę