Department of Clinical Psychology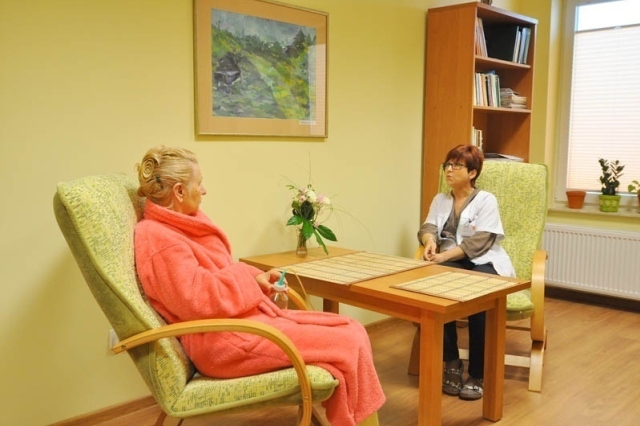 The Department of Clinical Psychology comprises a Psychological Outpatient Clinic, a Smoker Aid Clinic, and a Psychiatrist Consultant's Office.
WE PROVIDE THE FOLLOWING TYPES OF SERVICES:
Outpatient psychological advice
Departmental psychological consultations
Psychological therapy
Group meetings
Psychiatric consultations
PSYCHOONCOLOGICAL CARE
Dealing with cancer and recovering from it is often a long-lasting process of getting used to coping with stress, which includes talking about experiences and expressing emotions, is a healthy way of taking care of yourself during treatment. In order to cope better in this difficult period of time, it is good to know what may facilitate and what may hinder the process of positive change.
Psychological therapy in oncology can be helpful when:
the stress associated with disease diagnosis and treatment disrupts daily activities,
when the patient has trouble sleeping,
when strong negative emotions persist despite the end of treatment,
when thoughts of resignation dominate.
The aim of therapeutic interventions is to improve the patient's quality of life as an aid in activating various types of support resources.
Various forms of therapy are used: psychoeducation, relaxation, elements of the Simonton method, supportive, cognitive-behavioural, and psychodynamic psychotherapy.
WHO CAN USE A PSYCHOONCOLOGIST'S ASSISTANCE?
Each patient of our Centre, during diagnosis, treatment or after completion of therapy, may, without referral, seek psycho-oncological help. This also applies to patients' family members.
WHAT DOES INDIVIDUAL PSYCHOONCOLOGICAL SUPPORT OFFER?
During treatment, it is important to lower the level of anxiety, mobilize cooperation during treatment and build up hope. Being able to express emotions such as fear, sadness, anger can have a beneficial effect in reducing the side effects of the treatment. A therapeutic conversation reduces the intensity of emotional tension felt by the patient. Psychological therapy focuses on finding supportive resources in yourself and in your immediate surroundings. It helps to tame the treatment situation, adapt to changes and limitations caused by the condition, improve communication in the family, rebuild hope and sense of meaning that have been disturbed by the medical condition.

By approaching the Department of Clinical Psychology, you can obtain information about the self-assistance associations operating in our region, with which we cooperate on a daily basis (Bydgoszcz Association of Amazons "Łuczniczka", Polish Ostomy Association "POL-ILKO" Regional Branch of Bydgoszcz, Association of Men with Prostate Diseases "Gladiator", "Piękniejsze Życie" Foundation).
INFORMATION ABOUT THE STAFF
The Department of Clinical Psychology employs psycho-oncologists and a consultant psychiatrist.
Kontakt do Zakładu
Coordinator

Bożena Kawiecka-Dziembowska, MD, PhD
W Zakładzie Psychologii Klinicznej pracują psychoonkolodzy i konsultant lekarz psychiatra.